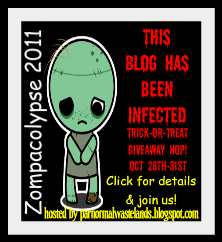 I am participating in Zompacolypse 2011. A giveaway hop hosted by Paranormal Wastelands. This hop will run from Oct. 28-31st. My winner will be chosen on Nov. 1st. You are entering to win one of the following prizes:


First Prize!

 
Second Prize!
Both prizes are pretty GREAT!
It's pretty simple to enter.
You MUST be a GFC follower.
+1 entry for following me on twitter
+1 entry for liking my facebook page
+2 entry for leaving a comment on this post
Please fill out the following form to enter my giveaway.